Abdulrahman Medical Surgery
Abdelrahman is a bright, caring, and inspirational 21 year old who was part of the Orphan Sponsorship Program through IRC. The IRC team met with him and his beautiful family in 2019 and immediately were drawn to his radiant smile. Upon escaping from the civil war in Syria with his family, Abdelrahman suffered from a terrible accident in where the injuries resulted in severe nerve damage to his spine. As a result, he lost most of his motor abilities such as walking, moving his arms and even sitting up. However, doctors in Istanbul have advised that he can in sha Allah through rehabilitation and surgical procedures regain some if not all his motor abilities such as sitting up, using his arms, and being able to walk again. Donors in Canada never forgot about Abdelrahman and his siblings in the past when his family were forced to flee Syria to seek safety from the perils of the civil war. His two younger siblings continue to be supported through the Orphan Sponsorship Program. However, the family is unable to meet the demands of medical expenses that are required for his medical treatment needs which includes a recent surgery (which was deemed an improvement for Abdelrman), a year of rehabilitation through an inpatient program at a hospital, and the monthly cost of maintaining life saving equipment that he rents from the hospital. InshaAllah, through your help, Abdelrahman can reach his potential and once more live a greater quality of life.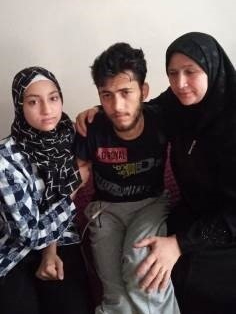 Ceci est un aperçu des produits récemment consultés par l'utilisateur.
Une fois que l'utilisateur a vu au moins un produit, ce fragment sera visible.
Causes récemment consultées